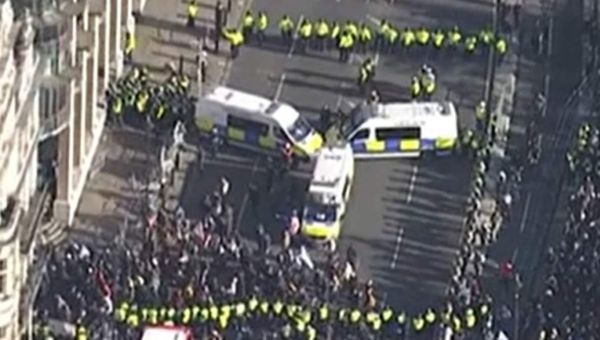 ---
Extremely
Liberal
Very
Liberal
Moderately
Liberal
Somewhat Liberal
Center
Somewhat Conservative
Moderately
Conservative
Very
Conservative
Extremely
Conservative
-100%
Liberal
100%
Conservative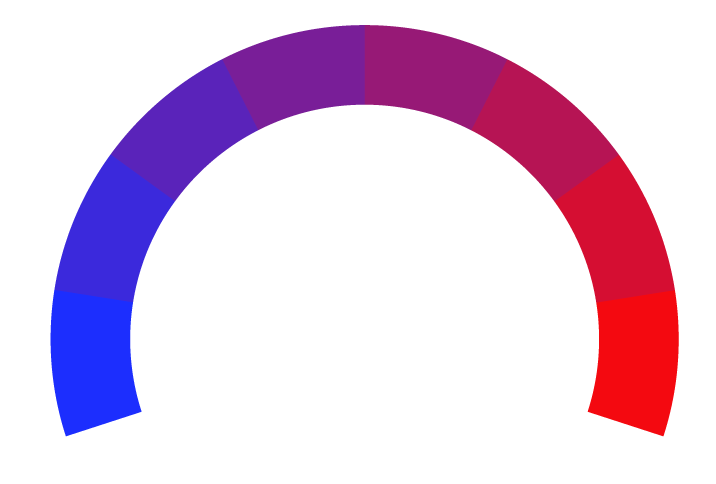 Contributing sentiments towards policy:
69% : Previous events have been marred by demonstrators driving through Jewish areas while waving flags and shouting anti-Semitic abuse.
55% : 'The Commissioner outlined plans to continue working to maintain public order, ensure compliance with the law and maintain the safety of participants, police officers and the general public.
52% : In a statement the force said: 'We have been made aware of planned demonstrations taking place today, Saturday 11 November, at London Waterloo Station, Victoria Station and Charing Cross.'We fully respect the right of people to protest lawfully but where we believe this could cause serious disruption to the railway services, we must take action.'It added that anyone who 'organises or takes part in an assembly during the prohibition commits an offence.'Speaking to the Today programme on Saturday morning, head of the Palestine Solidarity Campaign Ben Jamal said organisers were expecting up to a million people to descend on the streets of London.
50% : We will continue to take action to avoid the disorder that would likely take place if that happened.'READ MORE: London pro-Palestine march route: Interactive map shows today's Armistice Day protest AdvertisementThey had previously announced four arrests including two which took place not far from Whitehall.
50% : Anyone refusing to disperse can be arrested, the Met saidExclusion zones have been put in place around the Israeli Embassy in Kensington and the US Embassy in VauxhallPrime Minister Rishi Sunak and his wife Akshata Murty look at Remembrance Crosses in the Field of Remembrance at Westminster Abbey in London ahead of Armistice DaySpeaker of the House of Commons, Sir Lindsay Hoyle, joins poppy sellers on behalf of the Royal British Legion as the nation rallies around volunteersDAC Taylor said the Met had information that 'large numbers of counter protesters will be coming to London with a view to confronting those taking place in the main march'.READ MORE: Demonstrators blockade weapons manufacturer BAE Systems site in protest over Israel-Hamas war AdvertisementIn the largest policing operation ever mounted for the commemorations, the capital will be flooded with almost 3,000 officers from across England and Wales.
48% : 'All criminality must be met with the full and swift force of the law.
48% : He said: 'There are a number of groups within this counter-protest who are split off and seem intent on seeking confrontation with the main Palestinian march and the policing operation at the moment is being effective in preventing that happening.'Mr Twist said the main march involved tens of thousands of people and added: 'This is the biggest march that we've seen in this phase and at the moment there are no issues with it.
47% : 'The Met have my full support to take action against anyone found spreading hate and breaking the law.'Layla Moran, a Liberal Democrat MP who has family in Gaza, laid blame for any trouble caused by the right-wing mob at the Prime Minister's door.
46% : 'That doesn't equate to serious disorder or to us losing control, but it does mean that we are taking robust, rapid and agile action to deal with what we are dealing with.'Children cry during a funeral for family members in Gaza who were killed in Israeli strikesA woman and a child look out from the window of a damaged building following Israeli bombing on Rafah in the southern Gaza Strip on SaturdayIsrael bombards the Gaza Strip with missiles overnight on FridayFar-Right groups have vowed 'We'll be waiting' as pro-Palestine activists arrive in London todayActivists from right-wing Turning Point UK hold a counter-protest to the National March for Palestine alongside the Cenotaph on October 28.
39% : He said: 'There are a number of groups within this counter-protest who are split off and seem intent on seeking confrontation with the main Palestinian march and the policing operation at the moment is being effective in preventing that happening.'A counter-protester is detained by police in Parliament Square in central LondonOfficers arrest a counter-protester in Parliament Square during pro-Palestine marchesPolice block counter-protesters in central London today during a pro-Palestinian marchRight-wing protesters clash with police officers near Parliament Square on SaturdayPolice clash with far-right counter-protesters in Parliament Square earlier todayA counter-protester swipes at a riot police officer in Parliament SquareMen hold cans of beer and shout at police officers as they are encircled in order to prevent further violenceA right-wing protester is seen appearing to assault a pro-Palestine protester as a second attempts of interveneA pro-Palestinian supporter clashes with a right-wing protester in LondonTussles broke out as police officers vowed to use all available means to keep right-wing protesters separate from the pro-Palestine marchAt least four people have been arrested today as part of the protestsFar-right figure Robinson, real name Stephen Yaxley-Lennon, and his supporters were heard chanting football-style cheers as they overwhelmed police outside the Met's HQ and flooded onto Whitehall - just minutes before 11amPolice officers arrest a man on Parliament Square after the two-minute silence for Armistice DayPolice officers chase groups of right-wing protesters through streets close to the 'National March For Palestine' in central LondonA police officer chases a man through the streets of London as part of the Met's operation on SaturdayRiot police clash with Tommy Robinson supporters in Chinatown in LondonRight-wing protesters scuffle with police in London's Chinatown after the two minutes silenceA statement from the Met Police said officers had been targeted by protesters throwing 'missiles and a metal barrier'A right-wing protester gestures as police officers keeps the group separate from pro-Palestine protestersFar-right figure Tommy Robinson arrived in Whitehall early on Saturday morning along with hundreds of right-wing protestersPolice officers monitor protesters gathering with placards and flags for the 'National March
38% : There is no absolute power to ban protest, therefore there will be a protest this weekend,' he insisted.
23% : Tommy Robinson with his supporters in London's Chinatown ahead of a pro-Palestinian protest marchProtesters shove their way through a human barrier of police officers as they demanded to be allowed access to the CenotaphPolice officers take their places around Whitehall ahead of the two-minute silenceSome protesters through bottles towards police officers as they forced their way through barriersProtesters chanted 'England till I die' and 'You're not English anymore' at police officersPictures showed Tommy Robinson speaking with several police officers at WhitehallFlag waving protesters join the crowds waiting to view the two minute's silence near to the Cenotaph on WhitehallRight-wing protesters unfurled banners criticising the pro-Palestine march during the two-minutes silence despite the fact that no pro-Palestinian protesters could be seenOfficers walk close to Whitehall as they monitor the arrival of several hundred protesters let by Tommy RobinsonPolice officers attempted to form a human wall to prevent Robinson and his supporters from reaching the CenotaphEarly on Saturday leaflets claiming that terror group Hamas are a 'resistance' movement could be bought by pro-Palestinian protesters in LondonA sign is seen on the top deck of a London bus carrying the controversial slogan: 'From the river to the sea, Palestine will be free'Police officers were standing guard at the Cenotaph early on Saturday as the Met braces itself for a day of action on Remembrance DayOfficers from the Metropolitan Police on duty at the Cenotaph on Whitehall in Central London ahead of a pro Palestine demonstration in the capital on Armistice DayEarly on Saturday people took to social media to show coaches full of protesters heading to LondonVideos shared on social media showed full coaches of people heading to LondonProtest organisers from London have planned to take activists to the capital on buses for the 'Million March'Former army sergeant James Fillery said: 'I am glad that they didn't disrupt the silence.
*Our bias meter rating uses data science including sentiment analysis, machine learning and our proprietary algorithm for determining biases in news articles. Bias scores are on a scale of -100% to 100% with higher negative scores being more liberal and higher positive scores being more conservative, and 0% being neutral. The rating is an independent analysis and is not affiliated nor sponsored by the news source or any other organization.