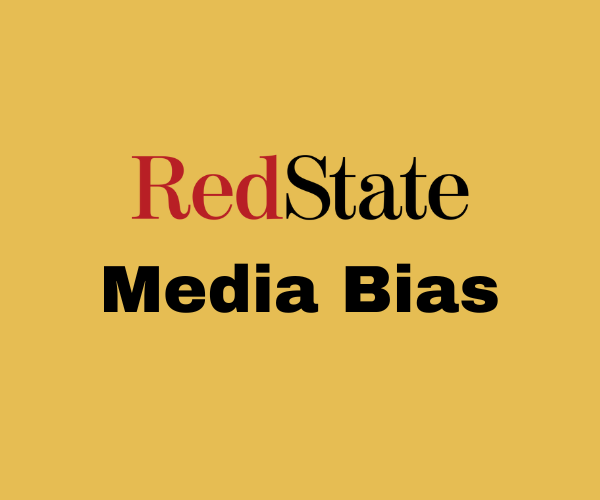 RedState is a conservative news and political blog that was launched in 2004 by Salem Media Group. The source claims to be a leading conservative and political news blog for right-of-center activities, "amplifying voices in political debates for over 15 years and is the largest community of opinion leaders and Main Street conservatives today."
As such, this article analyzes the political blog's coverage and editorial decisions to determine whether or not discernible political bias is present in their reporting. This analysis seeks to provide a comprehensive answer to whether RedState is biased, as well as shedding light on the particular factors that contribute to this bias.
How Does Biasly Rate News Sources?
Biasly's algorithms produce bias ratings to help provide multiple perspectives on given articles. Biasly has analyzed 200,000+ news articles from more than 3,200 news sources through our A.I. technology and team of political analysts to find the most factual, unbiased news stories.
Biasly determines the degree of political bias in news sources by using Biasly's Bias Meter Rating, in which Biasly's team analyzes media sources' reliability and bias and produces three scores, a Reliability Score that measures the accuracy of media sources; an A.I. Bias Score, evaluated by A.I.; and an Analyst Bias Score evaluated by political analysts. These scores are rated based on seven rating metrics including Tone, Tendency, Diction, Author Check, Selection/Omission, Expediency Bias, and Accuracy. These metrics help our analysts to determine the political attitude of the article.
Our A.I. a machine-learning system employs natural language processing and entity-specific sentiment analysis to examine individual articles and determine their bias levels. By analyzing the key terms in an article such as policies, bias phrases, political terminologies, politicians, and their nicknames, the algorithms can rate the attitude of the text.  Bias scores range from -100% and 100%, with higher negative scores being more liberal and higher positive scores being more conservative, and 0% being neutral.
Is RedState.com Politically Biased?
RedState is a self-proclaimed conservative political blog providing an outlet for conservative columnists to express their personal opinions and views. Looking at political typology in America is a large issue, given the considerate polarization present in American politics. Take a look at this chart from Pew Research, which highlights that partisan polarization shows divisions in both partisan coalitions:

Source: Pew Research
Returning to the idea of political bias, Biasly rates RedState based on two scores, one from its computer algorithms based on A.I., and one from its Analysts. Biasly rated RedState with a Computer bias score of Moderately Conservative and an Analyst bias score of Very Conservative, meaning that overall this source provides political coverage from an American conservative political perspective.
Analyst scores are based on at least 15 articles each being reviewed by one liberal, moderate and conservative analyst. The more articles rated by Biasly's analysts for a particular source indicates a more accurate analyst score. When Biasly rates more articles, the scores will overall become more accurate. You will also find that Biasly's scores closely align with determinations from other third-party bias research agencies.
The remainder of this article will discuss different ways to identify bias to help you be able to determine opinions from facts and become the most informed consumer of news.
Before we begin, we need to discuss bias. Bias is a natural function of humans, and we can express it both consciously and unconsciously. Bias is one of the most fundamental forms of pattern recognition in humans. This isn't to lower the bar and say that "all things are biased," but to explain the process in which we may come to trust certain news organizations that display patterns of coverage.
On the media's part, there is an incentive to retain audiences, encourage them to purchase subscriptions, and rate products positively. Bias is a two-way street, people want to see news stories about things they care about, and the media needs viewers to continue their operations. This creates a positive feedback loop that influences what stories are covered and from what perspective. This also explains the actions of more liberal news organizations.
Analysis of Bias in RedState.com Online Articles
We can determine bias in a multitude of different ways, including Tone, Author, and Diction, which are the primary metrics we use at Biasly. Tone refers to the attitude of the writing but is separate from diction in that the author's word choice is studied and analyzed in the Diction metric. Lastly, the Author metric refers to the author's demonstrated stance on a political issue based on previous news articles or their personal social media.
The first article we'll look at is titled "New Poll Numbers on DeSantis Are Going To Make Dems and '60 Minutes' Spit" and is rated Very Conservative. The reason for this rating is that there is a positive politician portrayal for DeSantis and a consistent conservative sentiment throughout the article. For example, the author states the following:
"70 percent of voters in the Sunshine State say they approve of how DeSantis has handled the COVID response. It's pretty hard to get better numbers than that and it pretty much shows that they [60 Minutes] completely failed in their hit piece on the virus response."
Defending DeSantis against a hit piece from 60 Minutes indicates that the author is in favor of the politician. Moreover, specific words indicate to us the author's stance, including referring to the Republican politician as "incredible," "moving in the right direction," "great prospects against any of the Democratic challengers."
Last, it is most obvious that the author stands in favor of Republicans, concluding his article with the following:
"You can almost hear the great weeping and gnashing of teeth from Democrats over this – with all that they tried, to fail this badly. And it's glorious. Chew on this a little, Democrats. Hope you enjoy it."
Additionally, we can look at expediency bias, which is the bias and leaning of the title, picture, and summary of text below the article– basically the first impression when you first click on the article. The bias of the title, "New Poll Numbers on DeSantis Are Going To Make Dems and '60 Minutes' Spit", indicates that the author supports the poll numbers for DeSantis and opposes Democrats, which he explicitly says the poll numbers will make them "spit."
Subsequently, the summary of text is identical to the title, adding that "Democrats have been going all-in trying to attack him on every level. "60 Minutes" ran a disgraceful smear job on him about his COVID response that was roundly debunked."
Accordingly, below the title is a picture of DeSantis smiling to an audience– this would push readers to feel the same sentiment as the politician as they read the article, pictured below:

Source: RedState
What this tells us is that, in addition to a biased title and image that provokes positive feelings towards Democrats and the opposite towards Republicans, expediency bias just shows us how bias can so easily appear in articles.
Last, author Nick Arama is typically known for having such stances in his articles. Past articles include the following:
As such, the author does not blink to include his personal views and stances in his article, thus creating an immediate media bias. In summary, this article, among others from RedState, has significant conservative media bias, which aligns with our analysis of RedState as a conservative news outlet.
Although this article falls to the right on the political spectrum, article bias varies between articles, authors, and their topics, despite coming from the same organization. This not only underscores the importance of looking for signs of bias, including tone, diction, author, and expediency bias (among other factors) in any article that you come across.
To demonstrate, an article with less bias from the same author as above, Nick Arama is titled "Congressman Reveals What He Said and Did to Officer Who Shot Ashli Babbitt." Biasly rates this article as Somewhat Conservative, as more mild language and less emotionally loaded language are used throughout. While this is still not an example of fully objective reporting, it does show that each article has a different level of media bias.
Analysis of RedState.com Opinion Articles
It is critical to distinguish between opinion and reporting. Reporting, which is intended to be neutral, gives the reader facts and quotes from primary sources and allows the reader to form their own opinion. Meanwhile, opinions are an outlet for columnists to express personal views on issues. While we saw some elements of factual reporting in the analysis above, it is clear that for the most part, RedState's content puts forth their opinion first.
For example, consider another article with an emotionally loaded title such as "Kamala's Huge Lie About Border Debunked as Illegal Aliens Thank Biden for Letting Them In." The title contains obvious bias and language suggesting negative opinions and judgments about the Democratic Party. Extreme diction such as "lie" and "illegal aliens," indicate to us that the author does not intend to provide an objective reporting of facts in this article. Rather, he seeks to push his personal views and opinions to his like-minded conservative audience.
Another example with a more objective title is "Change of Heart? Bill De Blasio Decides More Police Is Better" where Biasly rates this article in the Center, indicating that there is limited bias present and that the article will focus more on objectively relaying news information, such as
"Additionally, he'll approve a $105 million budget increase for a new police precinct."
Once again, these articles, in addition to those above, are only a small representation of RedState's content, however, they indicate that this outlet is characterized by a great deal of opinion, once again highlighting the importance of being able to separate subjective writing from reporting.
Who Owns RedState?
Founded in 2004 as a community blog, RedState has grown into a leading platform for conservative news and opinion outlets. RedState is operated by Townhall Media, with Johnathan Garthwaite serving as the Senior Vice President, pictured below. Townhall Media is owned by Salem Media Group company.

Source: Radio Ink
How to Evaluate and Uncover Bias
It can often be difficult to tell if the news you watch is biased. If you have settled on a news channel, it's usually because you trust the information you are gaining. Unfortunately, many trust the information they are hearing because it confirms what they already believe. This is referred to as "confirmation bias." It is important to challenge your beliefs and get third-party verification that what you are hearing is the full story. This is why we recommend using Biasly to compare different news stories side-by-side using our bias ratings to figure out what both sides think of a political issue.
Although Biasly assigned RedState a Conservative bias score, recall that bias varies between articles and that RedState does not exclusively push extremely conservative content. As such, articles will vary in their level of media bias, with non-political topics typically including less political bias. Subsequently, every article you read will be biased to some extent, so resources such as Biasly's News Check will guarantee a determination of bias in what you read.