Media Bias Charts
The Media Bias Chart  at Biasly offers a rating of various news agencies. Biasly is an independent news and bias rating agency. The chart is a reflection and representation of what Biasly aims to achieve. Biasly is dedicated to upholding the mission of being Clear, Fair, Just, Impartial, and Diverse. 

Computer Media Bias Chart
This chart is based on bias and reliabilities calculated from the quality of sources, quotes, and sentiments used towards policies, politicians, and bias phrases.
Biasly produces Media Bias Ratings using a consolidated average bias score based on our A.I. meter rating system by utilizing the latest data science technology from individual article rankings.
© biasly
Biasly Media Bias Chart
In current times, many people source crucial information from news agencies. Given the limitations on people's ability to fact-check and verify sources, it becomes increasingly effortless to be misled and develop a distorted perspective when reading an article. 
There are thousands of news outlets, thousands of journalists and everyone comes from their peculiar backgrounds. That being said, everyone is unique in their own way, so there should be a difference in opinion. Differences in opinion can lead to bias and a tendency to lean towards a certain agenda. In a polarized world of media, bias has become a norm. 
At Biasly, we intend to derail the notion of merely just accepting what media outlets render to the public and give a rating on articles, news agencies, and politicians that are not biased and prove how biased the article is and in which way the article is biased, with an A.I powered market leading Bias rater, analyzing thousands of articles to identify political bias. 
Appearance
The visual appearance of the Media Bias Chart proves just how convenient and easy it is to understand the chart. In turn, this implies that the chart is accessible to many and can be easily understood by people from any part of the world. 
It is not only for professionals but all people across all social spheres of life. 
News Agencies
The Media Bias Chart has thousands of News Agencies listed. Listing majority of the Major and Minor news agencies in the U.S. and across many continents. From West to East, North, and South – Biasly's media chart has a diverse collection of news agencies listed. It does not stop at a few thousand, because at a rapid rate, the list keeps growing.
 The A.I Media Bias Chart is based on bias and reliability; calculated from the quality of sources, quotes and sentiments used towards policies, politicians and bias phrases which is followed by an Analyst Media Bias Chart where their analysis is based on tone, tendency, diction, author, expediency bias, selection and omission, and accuracy. 
Rating Methodology
Biasly trains analysts from all spheres of life and the political spectrum. The analysts are equally balanced and diverse. 
Knowing that we all are human and unique beings, it's noted that we all have some type of bias because of our backgrounds and experiences in life, however, Biasly trains their analysts to not be biased.
Making use of analysts from each side of the aisle, analysts identify the type of bias that is present through using the analyst bias ratings and the Bias meter which uses advanced Artificial Intelligence. Therefore, you can rest assured that our ratings are represented from all viewpoints.
The analyst team on a single rating comprises three team members; 1 left-leaning, 1 moderate, and 1 conservative-leaning analyst. The analysts evaluate many things, including politicians' social media accounts, statements made in the press, the history of news agencies, the geographical location of news agencies, and how that affects their biases. An analyst rates the bias score, author's bias, and reliability.
The Computer A.I. Bias Meter gives bias scores on a scale of -100% to 100% with higher negative scores being more liberal and higher positive scores being more conservative, and 0% being neutral.
 The Computer A.I. Bias meter scores political leanings and reliability. The chart allows you to click on a rating or news agency and then allows you to read the in-depth analysis and explain the rating. 
Features
Thousands of News Sources
The media bias chart has thousands of news agencies listed, whilst more are being added at a rapid pace. 
Diverse Ratings
The chart hosts scores from Analysts who are trained via Biasly to deliver unbiased and impartial analysis. The team of analysts is equally balanced and diverse. 
The Analysts are handpicked by Biasly and come from different spectrums of politics. Analysts are chosen from all over the world.
The analysts are there to augment and provide a different bias rating that can be compared with the Computer A.I.-based ratings.
Technology-Based on Data Science
The technology used at Biasly is industry-leading technology. The Bias Meter is always improving based on machine learning and data science, adapting to the current day to give users accurate and reliable information pertaining to their news sources. This makes it a cut above the rest.
The Bias Meter uses a complex algorithm that is trained to identify certain components of an article such as tone, language, sources, quotes, biases, political terms, politicians, and more. Using artificial intelligence, articles are scanned to determine their political biases. 
Unbiased Approach
At Biasly no bias is tolerated and there is no agenda, hence the analysis deems to be concise and consistent. There is a standard and this standard is implemented across Biasly. Biasly is not owned by any third parties and is completely independent.
Accessible and Open for All
Biasly is accessible to all, it is convenient and accessible to all. The Media Bias Chart will be available to everyone, no special requests or logins needed to be made to view the chart. This way, everyone can access the charts and reshape their perspectives on the matters that are being dealt with after engaging with the ratings on the chart.
User-Friendly Search
The media bias chart has exceptional searching capabilities, in the search bar you can easily search for a news agency of your choice and check their rating. 
For example, if you want to check the rating of a news agency, you simply type in the name of the agency and the rating will pop up like the example below. This emphasizes the conscientiousness and accessibility of the chart. 
The example below is a news agency (NEWS24) in South Africa that was searched for its rating.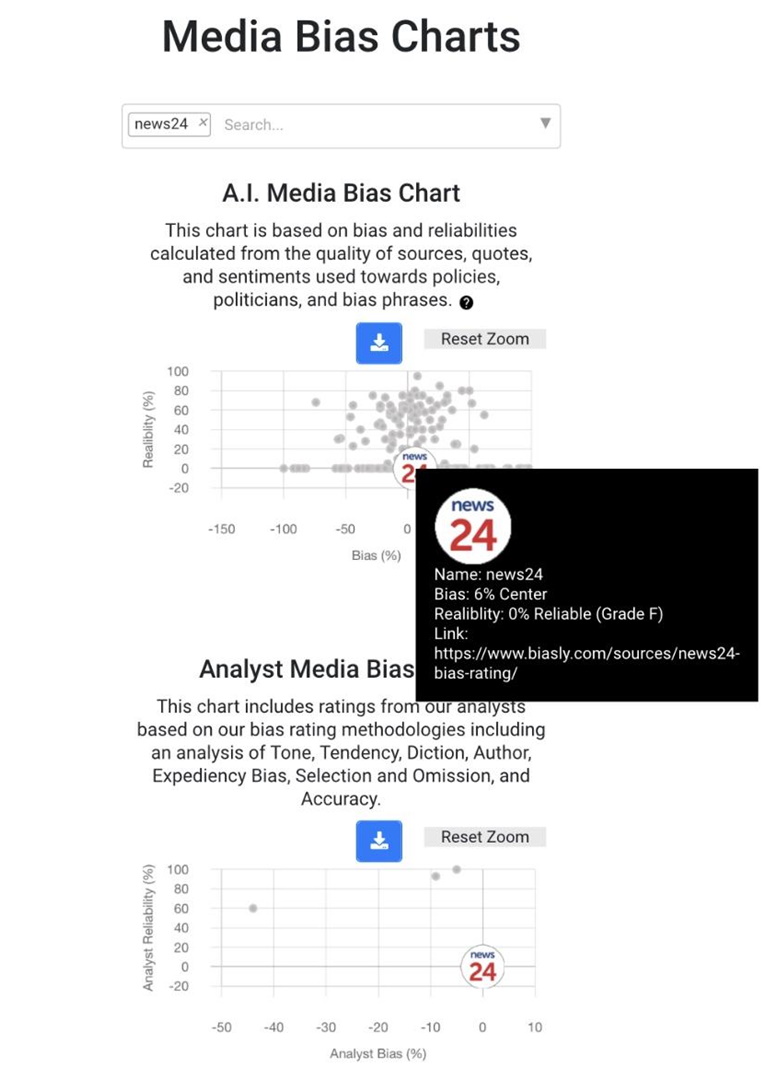 Feel free to test it on Biasly's Media Bias Chart. 
Real-time Interactive Chart
Being that the chart is based on bias and reliabilities calculated from the quality of sources, quotes, and sentiments used towards policies, politicians, and biased policies. The chart boasts an interactive bias chart generated in real-time based on the latest 300 articles. 
Analyst vs Computer Accuracy 
Comparison of Analyst vs Computer A.I. charts to show accuracy differences. The chart shows a comparison of Computer A.I. biases and Analyst reliability ratings to provide a different perspective on the sources. 
Interactive Exploration
On the chart, you can learn about the sources by clicking and exploring ideologies. Just by clicking on the logo of your choice on the chart; a pop-up with the name, bias rating percentage, and leaning will show the reliability percentage and grading, and a link with in-depth analysis and rating of the news agency will show.
For more on Biasly, click on the following: 
Home page  Article Ratings  Politician Ratings  Media Source Ratings  Bias Checker  Videos  Topics  Blog  Bias Check Chrome Extension