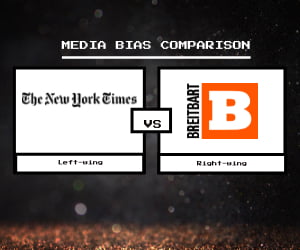 When comparing two news sources with opposite political ideologies, we usually select two newspapers with an equal percentage of readership or a nearly equivalent level of popularity among readers. However, such comparison does not help us uncover the different tiers of extremism in the ideologies and discourses between major media corporations and the unorthodox media. Today, we will discuss two news outlets with completely different ideologies, budgets, and corporate structures, namely the far-right Breitbart and the very liberal New York Times.
Breitbart
Breitbart News is far-right political news and opinion website founded by the conservative political commentator Andrew Breitbart, who passed away in 2012. Andrew Breitbart called his new corporation "the Huffington Post of the right." Breitbart News aligns with the right-wing of the political spectrum and has connections to many major right-wing newspapers. Thus, it is listed as a conservative news source on the Biasly A.I. Bias Meter.
Breitbart News is considered by some as a radical-conservative news source, and its content is built around news pieces targeting its conservative audience. The Democratic Party, liberals, left-wing supporters, and the radical left are some of the groups it highly criticizes. Unlike some conservative news sources, Breitbart does not necessarily support the Republican agenda. It brings a lot of criticism in and outside the Republican Party and defends traditional values to the core. During a panel in 2017, former President Barack Obama stated that Breitbart News "did something pretty interesting" by shifting the political narrative "in a powerful direction."
Andrew Breitbart shared that politics was downstream from culture, which means that politics was essentially shaped by culture. So, to change politics, one must first understand the dynamics of the culture and change its units, namely the people. Also dubbed "the Breitbart Doctrine," this way of approaching political analysis and journalism provided Breitbart News with a justification for bold and daring political commentary.
Their discourse usually follows a conservative path and contains language that promotes nationalism and heavy conservative principles. Being heavily identified with the far-right, it is no surprise that the rhetoric Breitbart News employs pertains to PRRPs (populist radical right parties). Nevertheless, the editor-in-chief of Breitbart News denies these claims. Besides, Breitbart News has been heavily criticized for its inclination towards its predisposition to promote conspiracy theories.
"Would You Rather Your Child Had Feminism or Cancer?"
"The solution to online 'harassment' is simple: Women should log off"
"Gay rights have made us dumber, it's time to get back in the closet"
"Joe Biden Goes 110 Days With Approval Index Under -24, Polling Worse Than Obama, Trump"
"Analysis: Republican-Led States Lead Democrat-Led States in Economic Recovery Through February"
Breitbart on Biasly: https://www.biasly.com/sources/breitbart-bias-rating/
New York Times
The New York Times is arguably America's most famous newspaper in the World. Although it ranks as the 3rd most widely circulated newspaper in the U.S., it is a worldwide known and distributed newspaper. In addition, it is a significant contributor to pop culture. The public readership of The New York Times has declined from 1.2 million weekday copies in 2005 to 0.55 million in 2018. However, 85% of its regular readers are subscribed to the digital version of the newspaper. It has a strong liberal stance on daily issues and stands on the very liberal side of the political spectrum.
Although The New York Times claims to have no affiliation with any political party, it has endorsed Democratic candidates in the last 16 elections. Its previous supported Republican candidate was Dwight D. Eisenhower in the 1956 presidential elections. Conservative fronts frequently accuse it of having a liberal bias. In addition, conservative opposers hold the newspaper to have dangerous cosmopolitanist and internationalist views detrimental to American nationalism and conservatism.
President Donald Trump has heavily criticized the New York Times for its anti-Trump news pieces. These claims are not thoroughly verifiable in the news section of the New York Times. However, it is an undeniable fact that the core staff of the New York Times has anti-Trump and anti-conservative perspectives. Here are a few examples of headlines and phrases written by the NY Times:
"Donald Trump: The Worst President of Modern Times,"
"Donald Trump's re-election campaign posed the greatest threat to American democracy since World War II."
"Opinion | Impeach and Convict Trump. Congress Must Defend Itself."
"Why Remove Trump Now? A Guide to the Second Impeachment of a President"
"Hell, Yes,' Republicans Are Headed for a Bitter Internal Showdown"
"Can Republicans Win by Just Saying No?"
"Which 'Radioactive Republicans' Are We Betting On?"
The New York Times on Biasly: https://www.biasly.com/sources/the-new-york-times-bias-rating/