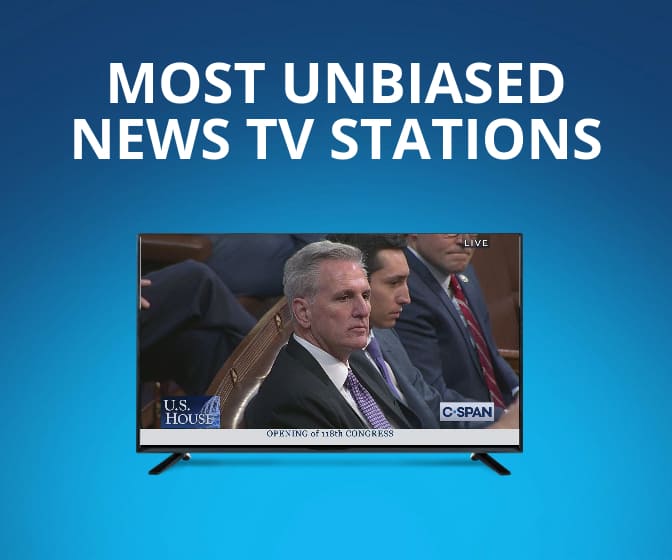 Through the growing number of newspapers, online personalities, websites, and news channels that present news around the world it can be harder to find exactly what you're looking for. However, television shows have been some of the most easily accessible and digestible when it comes to showing news to the everyday person several times a day. Whether you watch the news coming home from work, before school, or during meals, it can be burdensome to hear someone else's opinionated bias around the events that you may not agree with. This article provides a list of the most unbiased news TV channels with brief introductions that include their commitments to providing the best news possible.
Most Unbiased TV News Channels
C-Span
"We are a non-profit created in 1979 by a then-new industry called cable television, and today we remain true to our founding principles, providing gavel-to-gavel coverage of the workings of the U.S. Congress, both the House and Senate, all without editing, commentary or analysis." – C-Span, on their devotion to neutrality.
C-Span, or the Cable-Satellite Affairs Network, is not your regular TV news channel, as they act more as a facilitator of information surrounding government issues, congress meetings, and court proceedings. They do not have a journalist making comments and inputting their own views, opinions, or biased lenses while the events are filmed as they only explain what is going on. C-Span simply acts as a mediator, allowing people to view the unfiltered events going on within the government. Due to the fact that these news channels can act as a primary provider of information to citizens, C-Span prides itself in presenting neutrality towards their content.
PBS NewsHour
"In 1983, the program […] became the nation's first and only hour-long nightly broadcast of national news, proving there existed both a need and a substantial audience for serious, long-form journalism." PBS, on their impact in news delivery.
PBS, or the Public Broadcasting Service, offers a NewsHour that streams several times a day both during late morning and evening times, making it accessible for viewers to tune in whenever they can. Providing journalists with experience, holding discussions with experts in various fields, and reporting mere facts makes PBS NewsHour one of the most mainstream and trusted Left-Center-leaning TV news sources available. Out of all the major TV news services available, PBS is the one that has won time and time again several Alfred I. duPont-Columbia University awards for "excellence in broadcasting and journalism."
BBC News/BBC WorldNews
"The BBC should provide duly accurate and impartial news, current affairs and factual programming to build people's understanding of all parts of the United Kingdom and of the wider world." – BBC, on their mission, values, and purpose.
While the BBC, or British Broadcasting Corporation, has been thought of as a Left-leaning news channel, they are still viewed as impartial at times. While center does not necessarily mean perfect, any Left-leaning or Right-leaning sources can still prove themselves useful when it comes to informing people of world news. Despite being created for the United Kingdom, the BBC also covers news around the world and this is a reason many view them as impartial. Having no specific interest or affiliation to the governments they cover, they are able to freely criticize, agree, and present these news to others.
Honorable Mentions
CBS Evening News
CBS Evening News is a news broadcasting TV channel that not only provides many variations of their shows but also has centralized, local news delivered for every specific U.S. state. Their company is praised for their sourcing being fairly reliable, relevant, and still intriguing. They offer many shows that run from the afternoons or evening broadcasts with Norah O'Donnell. They maintain a somewhat-liberal leaning.
ABC News Live
While ABC News Live has received many criticisms being one of the more mainstream TV channels, they are still praised for several characteristics that place them above highly biased news sources. They mostly avoid sensationalist language, making sure to focus on informing and not just entertaining viewers. This is also seen during their presentation of events, where they emphasize factual reporting. While journalists from ABC News Live programming may at times weigh in with their own expertise, ABC News still manages to present information to the viewer in a way that allows them to interpret it for themselves.
3. NBC News
NBC News, also known as MSNBC, is thought of as one of the "Big Three" when it comes to TV news channels for the United States, alongside ABC and CBS News. Having built up a long history of reporting news, they tend to be Left-leaning when it comes to the types of stories they cover, having an emphasis on issues that catch the attention of the Left. However, NBC continues to report well-covered stories and are composed of a variety of reporters who aim to report objectively. They offer showtimes in the late morning and early evening, allowing their political news coverage throughout the afternoon.