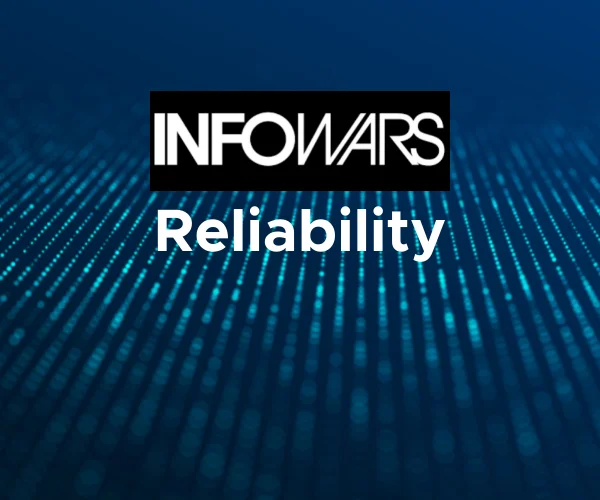 Infowars, founded by Alex Jones, is often thrown-out and deemed inadmissible as a news source by Americans who resonate with a moderate or left-leaning political stance. In a PolitiFact short review of the source, only one of eight articles accounted for had even half-true claims, with three falling at the furthest end of untrue. While to some this news source is completely unreliable and ridiculous, there are many Americans who consider the source to be credible. 
In accordance with its reputation, InfoWars is definitely not the most reliable political news source. What we will do is review the concept of reliability, how it is determined, and how Infowars truly fares on its accuracy and trustworthiness. 
Does Reliability Matter? 
Reliability, in general, refers to how trustworthy or accurate information, or in this case, a news source is. If we consider this definition, it quickly becomes clear why reliability is important in media sources. If we can't trust the things we read then there isn't much of a point in continuing to consume content from that source, after all. So how exactly can we gauge the reliability of a news source anyways?
There are several potential measures of reliability to look out for when trying to determine whether a media source is reliable or not. Red flags for an unreliable article can include the presence of wild unsubstantiated claims, facts dependent on other unreliable sources, heavy use of opinionated language, and more. Some indicators of a reliable news source, on the other hand, include things like:
Absence of subjective/opinionated language in articles

Credible sources cited (e.g., neutral sources, .gov, .edu websites)

Facts and statistics backed by multiple relevant outside sources

Use of primary sources when possible (e.g., interviews, quotes)

Information that remains consistent across news sources
So How Does Infowars Fare in its Reliability? 
The political bias index developed by Biasly objectively assesses news organizations' dependability. Infowars has a rating of 56% reliability on our meter, which suggests readers can trust about half of Infowars' content online. However, since there is an average, certain articles could be more or less trustworthy. Our findings are slightly more favorable than those assigned by other third-party fact-checking agencies such as Media Bias/Fact Check. According to them, Infowars gets a very low fact-based reporting grade most likely because they have many pieces in the current times that are not based entirely on fact. 
Let us analyze the supporting data for these rankings and discuss what to watch out for while searching for trustworthy news sources.
Infowars Accuracy and Reliability
The credibility of news organizations is significantly impacted by bias and political orientation. Like numerous other media organizations, Infowars has occasionally been accused of prioritizing a conservative, alt-right agenda above facts. We can evaluate the integrity of Infowars news stories and deduce how well the publication supports assertions with evidence, and see whether this is indeed the case. According to a Pew Research study, 67% of US adults say they see their favorite news sources present information that favors one side. We will check for selection and omission bias as we asses the articles' correctness and factuality.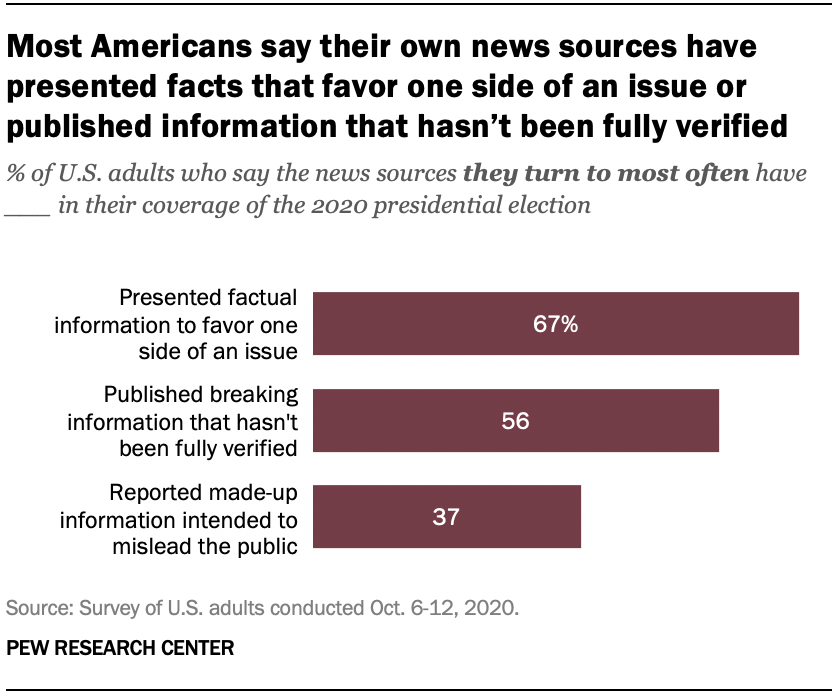 Source: Pew Research
Selection bias is when stories and facts are selected or deselected, often on ideological grounds, to create a narrative in support of the new sources' ideology. Omission bias, on the other hand, is when different opinions and political views regarding a situation are left out so that the reader is only exposed to the ideological perspective supported by the author. It's important to keep in mind these two types of biases when trying to assess an article's level of accuracy. 
Biasly assigns a percentage score to accuracy, with one being the least accurate and 100 being the most. Ratings are calculated by weighing assertions with supporting evidence, the number of reliable internal sources, and the number of reliable external sources employed. A full page at Biasly's website includes dependability and accuracy ratings for newly released Infowars news stories. As we previously stated, according to the reports analytics have assessed, Infowars is generally 56% reliable. This score can vary from article to article, though, and the most extreme variations in dependability are caused by bias, notably omission, and selection bias. Consider also, American Military News, which has a moderately conservative bias at 26% and is only 79% reliable according to Biasly. For example, they had one article that was 98% reliable titled," U.S. Marine Corps account attacks Fox's Tucker Carlson on Twitter, then deletes it, apologizes," and another article called, "Op-ed: Guns, Politics, and Media Influence," that is only 29% reliable. As a result, stories displaying political leaning are less reliable than neutral ones. 
For example, an Infowars article titled, "Teachers Working In-Person With 'Child Migrants' While Citizen Students Taught Online." came in with a rating of 38% Somewhat Conservative, and pushes a heavily conservative agenda. However, the information presented in the article is accurate. The author uses tweets, quotes from a county supervisor, and a spokesperson for the San Diego County Office of Education statement. Where this article becomes unreliable is that all sources used come from another conservative source. There is a quote from a concerned parent, but no quotes from teachers or the policymakers involved in the decision. In a quote that the author chose to use it even specifies the logistics of the program. 
"The educational program will include English language development and social-emotional learning opportunities. The teachers who are participating in the program are doing so voluntarily, and the program is following a COVID-19 screening protocol based on guidelines from the U.S. Centers for Disease Control and Prevention." 
This was the statement made by the SDCOE spokesperson, outlining that the initiative is done by volunteer teachers. This small statement in a quote used calls into question the reliability of other information— is there more to the sources? Are there more sources? 
As mentioned above, the article is not inaccurate. At the time in which it was published, San Diego schools were adjusting to state COVID protocols, and instructors were given an opportunity to volunteer students that may not have had the resources. The author chose to retain information that may have been useful to craft an informed opinion as a reader, and now the article has lost both credibility and reliability. 
We will take a closer look at more examples like this below, providing a further investigation into the reliability of Infowars' articles. This will include its use of selection bias, omission bias, and the quality of its sources and facts used. 
Analysis of Reliability in Infowars Opinion Articles 
Opinion-style journalism is a suitable venue for reporters to express their opinions and beliefs, even if excessive opinion might be something to avoid while producing a general news article. Although opinion pieces are less trustworthy because they are subjective, they can still be worthwhile to read to increase one's understanding of various political viewpoints.
Infowars' opinions and news articles have made some issues in the past with their reliability in their tendency to promote conservative and conspiracy ideologies and individuals; the group has been involved in several controversies where they have been charged with having low credibility and falsely making claims before the evidence revealed or opposed the truth. The article, "Comey: Imagine a 'Retribution' Presidency Where The President Ordered the 'Investigation and Prosecution' of His Enemies" was advertised as reporting but looked more like an opinion piece with heavy conservative diction. Their desire to produce anti-democrat, anti-Biden, and even anti-liberal articles that do not align with the views of Jones and other alt-right politicians overshadows fact. 
Quality of Sources and Facts Used 
As this analysis has shown, Infowars should not be trusted as the most reliable source on the market. To continue on this task, we will analyze an article to check for the quality of sources and facts used by the author to create a point or showcase a particular story. 
A piece published just this month, June 2023, titled "CBP Data Shows Another Wave Of Suspected Terrorists Attempted To Cross Border In April" uses one single, out-of-context quote by the Department of Homeland Security at the very end of the article, and two Twitter screenshots, both by conservative organizations or individuals. The information used to present this news is the CBP data that has been released, but the author does not show that data or include opinions from other committees or parties. Since there is no official citation for either of these sources and the facts are tied loosely together by images and a lack of information overall, this article shows low-quality of sources and facts. 
To give Infowars another chance, we will analyze one more article. In celebration of Pride Month in June, Tempe, Arizona has hosted multiple pride events. One of these caught the eye of Infowars and ended up as an article topic, "Democrats Use Drag Queen to Rally 2024 Voters." Contrary to the first article we analyzed, this one does portray a somewhat neutral quality of sources. There are direct quotes from the performer in question, however, there are once again two Twitter screenshots from conservative individuals or organizations. 
Overall, the pattern is that the sources chosen are individuals of regular standing in society and Twitter screenshots. While the Tweets made may be accurate and may be a representation of news or personal beliefs, we live in an age of media in which images and social media cannot always be trusted. This creates a lack of quality sources used by Infowars in their reporting. 
Selection and Omission Bias 
In our final analysis, we will observe the same two articles mentioned above. 
The Immigration and CPB data article, "CBP Data Shows Another Wave Of Suspected Terrorists Attempted To Cross Border In April", showed to have a lack of quality sources. Not only did the sources lack sufficient credibility, but the author bashes the Biden administration for a lack of action without acknowledging or mentioning the current plans and laws in place for immigration processes. All sources included are conservative individuals, and the DHS quote, as mentioned above, has no surrounding context. The author is also choosing to withdraw any other statistics surrounding current border crossings that may have decreased since the Trump administration, as they may be harmful to their claim. 
The second article, "Democrats Use Drag Queen to Rally 2024 Voters," conveys a similar message. Not only do the sources lack credibility here as well, but there is no nuance. The sources used to make bold claims about grooming, threats to children, and the use of inappropriate content at drag shows without adding statistics that may convolute their claims. Many Anti-Trans legislation has been passed in the past few months, as mentioned in the article, and the author chooses to focus on only the benefits of the legislation and not the limitations that it creates. 
Both of these articles prove to be based on true and accurate events, and the headlines may seem promising. However, they are both reminiscent of echo-chamber rhetoric that limits readers to the information presented and chosen by the author to strengthen their own point, without a desire to include external opinions. 
In opinion pieces, issues with factuality, sources, selection, and omission are frequently present. The articles we've covered so far are mostly biased and exclude adequate relevant background and information that may contradict the author's position. As a news organization with a liberal slant, Buzzfeed has a small incentive to continue appealing to liberal viewpoints to maintain the interests of its sizable left-wing readership. But now that we've enumerated typical trustworthiness indications, you may stay current by keeping yourself informed on the most accurate news.
So, is Infowars Reliable? 
Ultimately, it can be argued that Infowars is not a reliable news source with an adequate reputation because of its opinion-based reporting, one-sided arguments, and far-right overpowering beliefs. The more you research media reliability and accuracy, the simpler it will be for you to spot problems with sources, selection, omission, and factuality. To help with this, you can use Biasly's News Bias Checker to uncover reliability problems and assist you in finding the most accurate and dependable news.