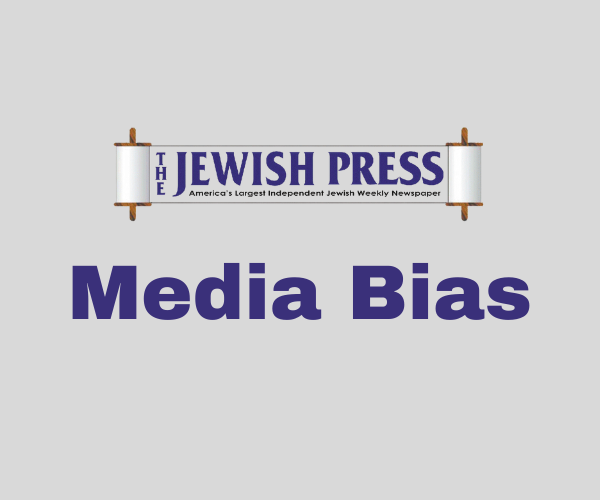 The Jewish Press is a digital and print newspaper founded in 1960, with a focus on current events in New York, where it is based, the United States more generally, and Israel. It also discusses political and religious issues, specifically those pertaining to Judaism.
While it is not a very well-known news outlet, The Jewish Press maintains a moderate viewership and the existence of bias in their reporting would be significant.
In this article, we will examine articles and op-eds released by The Jewish Press to determine the existence or extent of political bias in their reporting.
How Does Biasly Rate News Sources?
Biasly's algorithms produce bias ratings to help provide multiple perspectives on given articles. Biasly has analyzed 200,000+ news articles from more than 3,200 news sources through our A.I. technology and team of political analysts to find the most factual, unbiased news stories.
Biasly determines the degree of political bias in news sources by using Biasly's Bias Meter Rating, in which Biasly's team analyzes media sources' reliability and bias and produces three scores, a Reliability Score that measures the accuracy of media sources; an A.I. Bias Score, evaluated by A.I.; and an Analyst Bias Score evaluated by political analysts. These scores are rated based on seven rating metrics including Tone, Tendency, Diction, Author Check, Selection/Omission, Expediency Bias, and Accuracy. These metrics help our analysts to determine the political attitude of the article.
Our A.I. machine-learning system employs natural language processing and entity-specific sentiment analysis to examine individual articles and determine their bias levels. By analyzing the key terms in an article such as policies, bias phrases, political terminologies, politicians, and their nicknames, the algorithms can rate the attitude of the text.  Bias scores range from -100% and 100%, with higher negative scores being more liberal and higher positive scores being more conservative, and 0% being neutral.
Is The Jewish Press Politically Biased?
As The Jewish Press is not very well-known, there has not been much discussion over the existence or lack thereof of political bias in their reporting.
However, despite little external analysis of its political leanings, The Jewish Press has reported itself as having "a centrist or Modern Orthodox perspective." As people who are a part of the Modern Orthodox community are more likely to vote conservatively, this suggests that The Jewish Press' sees itself as both centrist and conservative, an evaluation which is accurate and consistent with Biasly's analysis, which has rated The Jewish Press as Moderately Conservative.
In addition to this computer-generated rating, Biasly also provides a rating from its political analysts. To ensure rating reliability, a minimum of 15 articles are chosen from each news source, which are analyzed by a liberal analyst, a moderate analyst, and a conservative analyst in a three-round process. The analyst rating for The Jewish Press is also Moderately Conservative.
As The Jewish Press is only Moderately Conservative and bias is not overt, it is important to address ways to identify such bias while reading their articles.
Before we begin, we need to discuss bias. Bias is a natural function of humans, and we can express it both consciously and unconsciously. Bias is one of the most fundamental forms of pattern recognition in humans. This isn't to lower the bar and say that "all things are biased," but to explain the process in which we may come to trust certain news organizations that display patterns of coverage.
On the media's part, there is an incentive to retain audiences, encourage them to purchase subscriptions, and rate products positively. Bias is a two-way street, people want to see news stories about things they care about, and the media needs viewers to continue their operations. This creates a positive feedback loop that influences what stories are covered and from what perspective. This also explains the actions of more liberal news organizations.
Analysis of Bias in The Jewish Press' Online Articles
The first article we'll examine is "AOC Slams Biden for Supporting Israel, America's Ally," an article discussing AOC and Biden's contrasting views on the Israeli-Palestinian conflict during its renewal in 2021. The article was given a rating of Extremely Conservative by the A.I. Bias Meter, and Moderately Conservative, by a Biasly analyst.
The article starts off with quotes from Alexandria Ocasio-Cortez's statements and her Tweet, which condemns the Israeli side of the conflict:
Blanket statements like these w/ little context or acknowledgement of what precipitated this cycle of violence – namely, the expulsions of Palestinians and attacks on Al Aqsa – dehumanize Palestinians & imply the US will look the other way at human rights violations. It's wrong. https://t.co/afCgoGdiMG

— Alexandria Ocasio-Cortez (@AOC) May 12, 2021
Her tweet here suggests that she believes the Palestinians are not at fault for their attack and that they are the victims in this situation, being forced to attack back after having had their land taken over (see AOC's use of the word "occupation") by Israelis.
Hana Levi Julian, the author of the article's tweets, on the other hand, portrays the matter in a different light in one of her Tweets:
"If Hamas stopped attacking Israel, Israel would not be attacking Hamas. You live there, you voted them into power."
In reply to #1 and 2 — 1. Tell Hamas to invest in its population instead of in its attack tunnels. 2. See #1. If Hamas stopped attacking Israel, Israel would not be attacking Hamas. You live there, you voted them into power. MAKE THEM STOP so we can ALL live quieter lives.

— (((Hana Julian))) (@alj770) August 17, 2019
Julian blames the Palestinians for the Hamas' rise to power, accusing them of backing the terrorist organization.
It then moves on to discuss the Israeli death toll in Lod that resulted from the conflict. The tone of the article is distinctly supportive of the Israeli side of the conflict, while condemning the Palestinian side. Since conservatives tend to support Israelis, while liberals tend to support Palestinians, there is a clear conservative-leaning in this article.
However, it is the diction used that most obviously shows bias. For instance, the title, "AOC Slams Biden for Supporting Israel, America's Ally," explicitly states the author's opinion on the Israeli-Palestinian conflict and paints the opposition as unpatriotic by labeling Israel "America's Ally."
The greatest flaw of the article, however, is the author's tendency towards selection bias. In discussing losses resulting from the conflict, she mainly discusses the Israeli death toll:
"Since the start of the current conflict… seven Israelis have been killed, including a six-year-old boy in the city of Sderot. Hundreds of other Israelis have been wounded."
However, the author leaves out details on the death toll of the Palestinians. The article also discusses the "1,700 rockets that succeeded in reaching Israeli territory," while leaving out information on the Israeli airstrikes on Gaza City, a mostly Palestinian-occupied city, that also occurred during the conflict. So while the article is factual, it leaves out information that is necessary to gain a full picture of what occurred.
The bias displayed in these articles is typically easy to identify. Consider "Trump Declares 2024 Run But Won't Be Unopposed," which was given a Bias Score of Moderately Conservative, which has a direct link to a poll and donation page for the Republican Jewish Coalition.
Analysis of The Jewish Press Opinion Articles
While a few of The Jewish Press opinion articles discuss personal matters or give advice, such as "Seven Habits Of Highly Calm People," many of them discuss political and sometimes religious topics.
"Justice Requires Fair Procedures," for instance, shows the more centrist perspective of The Jewish Press, with a Bias Meter score of Centrist, discussing details of Trump's indictment. While the author occasionally uses loaded diction such as "so-called progressives," indicating his belief that progressives are hypocritical, he maintains a neutral stance on Trump himself, saying "So, whatever one thinks of Trump…" and argues simply for due process of law.
Other articles, however, such as "On the Shockingly Skewed LGBT Survey Sent to Efrat Residents," an article on a survey on identification with the LGBTQ community, are more blatantly biased, attempting to change the reader's opinion on an event instead of inform. There are no sources or statistics cited in the article to defend the author's opinion and the author frequently states opinion as fact in an attempt to shape the reader's viewpoint. The author, for instance, calls the survey part of "the deliberate campaign to infiltrate our community and plant LGBT culture within it" despite not providing supportive evidence.
Here are some examples of biased versus neutral language on similar topics:
Topic
More left-leaning language
More center-leaning language
On the left
"Lately, however, many so-called progressives have been willing to ignore procedural safeguards and due process in their campaign to get former President Donald Trump"

"The Israeli right has claimed for years that the foundation has a progressive agenda"

– "Ben Gvir Severs Israel Police Ties with Left-Leaning Wexner Foundation"

On political figures and candidates
"Or maybe, just maybe, Biden was never an empathetic man. Maybe he simply trafficked in ersatz empathy, all the while feeding his own narcissism."
"Pence served as a member of Congress, and then as Governor of Indiana before being tapped by then-presidential candidate Donald Trump to become his running mate in the 2016 elections."

– "Former Vice President Mike Pence Joins GOP Presidential Race"
Who Owns The Jewish Press?
The Jewish Press, formerly owned by Sholom Klass, former co-publisher of the Brooklyn Daily and author of two books about Judaism throughout history, and rabbi Raphael Schreiber, is now owned by his daughters Naomi Klass-Mauer and Hindy Greenwald, with Jerry Greenwald as CEO.

Naomi Klass-Maeur and Jerry Greenwald
Considering the generational inheritance of the paper and the quote from the about section that:
"For over five decades now The Jewish Press has championed Torah values and ideals from a centrist or Modern Orthodox perspective"
it is unlikely that The Jewish Press is looking to reduce reporting bias.
How to Evaluate and Uncover Bias
It can often be difficult to tell if the news you watch is biased. If you have settled on a news channel, it's usually because you trust the information you are gaining. Unfortunately, many trust the information they are hearing because it confirms what they already believe. This is referred to as "confirmation bias." It is important to challenge your beliefs and get third-party verification that what you are hearing is the full story. This is why we recommend using Biasly to compare different news stories side-by-side using our bias ratings to figure out what both sides think of a political issue.
Even though Biasly gave The Jewish Press a bias score of Moderately Conservative, remember that bias varies by article, and The Jewish Press does not solely publish conservative pieces and sometimes publishes centrist articles. Additionally, some article types will inherently have more or less bias; general news articles are known for being less biased than opinion pieces. And while every article you read will be biased to some degree, some stick to the facts better than others, which is why it's so important to use Biasly's News Check to help you determine the accuracy of what you read.