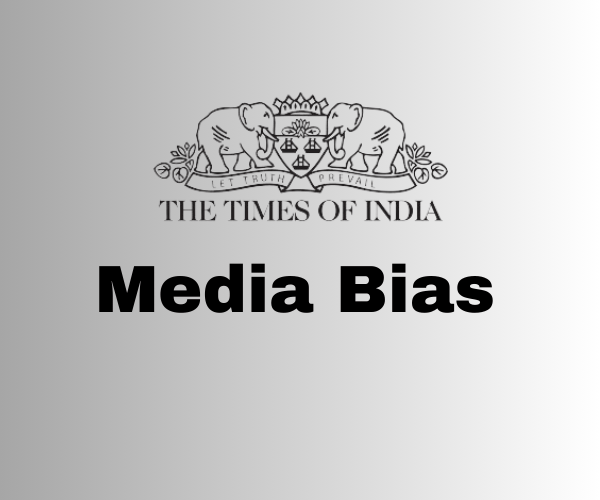 Amid the British Colonial Era, a newspaper by the name of "The Times of India" was published. Founded by Thomas Jewel Bennet, its purpose was to allow for a platform for British residents to participate in commentary regarding the political and social state of India. Over the last couple of years, The paper shifted hands and in turn, shifted in its direction. In 1946, over a hundred years after its publication, the paper was acquired by what is now known as the Times Group. Since then, its influence and circulation has grown exponentially.
The Times of India is perhaps the most widely circulated newspaper in India. Its influence spans urban and rural families, covering local, national, and international news. In the modern age, the newspaper has been digitized and now can reach even the furthest corners of India and the world.
It is undeniable that the Times of India is one of the most influential newspapers in India. For this reason, it is important to analyze the publication itself and address whatever bias we may find within it.
Assessing this bias in a country like India, will not be easy. Before analyzing the political makeup of the Indian people and the writers of The Times of India, it is important to take into consideration the massive influence religion has upon the country. Examine this graph below taken from Pew Research Institute that shows religions in relation to political leanings amongst Indians.

Source: Pew Research
This Pew Research graph is in reference to the 2019 election in India. The part of the BJP refers to a nationalist party of India, associated with a Hindu nationalist organization (RSS). They are widely considered the Right Wing party.
The Congress party refers to the INC, a more centrist and liberal-leaning party. The Congress party is widely considered secular and not inherently connected to any Indian religion.
Most looks into Indian political opinions and political bias, can often be seen to relate to the differing religions among the people within the country. Therefore, this religious analysis is important in assessing bias.
How Does Biasly Rate News Sources?
Biasly creates bias analysis in a way to combat the current divisive political nature of modern journalism. Biasly has analyzed over hundreds of thousands of articles through human and AI analysts.
Through Bialys Bias Meter, a rating will be created on metrics such as Tone, Tendency, Diction, Author-check, Selection/Omission, Expediency bias, and Accuracy. Biasly's algorithms produce bias ratings to help provide multiple perspectives on given articles. Biasly has analyzed 200,000+ news articles from more than 3,200 news sources through our A.I. technology and team of political analysts to find the most factual, unbiased news stories.
Bialys AI machine learning system analyzes the language used and sentiments exhibited in a way to determine bias ratings. The AI analyzes policies, bias phrases, political terminologies, politicians and their nicknames, and attitudes of the text. Bias scores may range from -100%, to 100%. 0% would be a neutral score.
Is The Times of India Politically Biased?
Before considering the bias of The Times of India, it is also important to understand the current state of journalism in India. In an article published by The Wire, another Indian newspaper, they state:
"Most newspapers in India would be completely unprofitable were it not for government advertising and other kinds of rent that they are able to collect."
According to Reporters Without Borders, India is rated 142 in the world regarding press freedom. The report claims:
"The Indian media landscape is like India itself – huge and densely populated – and has more than 100,000 newspapers (including 36,000 weeklies) and 380 TV news channels. But the abundance of media outlets conceals tendencies toward the concentration of ownership, with only a handful of sprawling media companies at the national level, including the Times Group, HT Media Ltd, The Hindu Group, and Network 18. Four dailies share three quarters of the readership in Hindi, the country's leading language."
Before even looking at Biasly's score, it is noticeable that The Times of India has a significant political inclination and is influenced by the ruling government. As pointed out earlier, the Indian press industry is controlled by a few entities, with The Times group being one of these major conglomerates.
The Biasly rating for The Times of India is a combination of AI-generated scores and human analysis. The publication receives a Computer Bias Score of "Somewhat Conservative" rating from the AI, while human analysis rates it as Liberal based on much fewer articles, which may indicate that the news source is somewhat mixed. This suggests that the publication presents a wide spectrum of opinions and information. It's worth noting that as our human analysts review more articles, their rating accuracy improves. Interestingly, the "Somewhat Conservative" rating by the AI aligns well with other third-party bias research on The Times of India.
Analysis of Bias in Times of India Articles
With the Times of India being the most popular English-language newspaper in all of India, and with such a large audience, how could the bias possibly be noticeable throughout its massive readership?
Another important factor to note is who the Times of India has recently chosen to partner with. With a fast-growing news industry and a recent spike in online news consumption in India, many international companies are moving to India to expand readership. See below a Pew Research graph stating the metrics of this massive growth:

Source: Pew Research
In accordance with this graph, Pew claims:
"Internet adoption in India is up — about three-fourths of the population own cell phones, and the country recently surpassed 100 million active Facebook users. Online news consumption is also increasing. India's unique visitors to online news and information sites grew from 31 million in 2011 to 45 million in 2014, an increase of 45%, according to an analysis by comScore."
Who the Times of India chooses to partner with may also be a good indication of the type of bias they may hold. According to a Pew Research article:
"The Huffington Post joined a growing number of outlets expanding into the country when it recently announced partnering with The Times of India to launch HuffPost India in November."
This gives us a better idea of who the Times of India may align themselves with. Choosing to partner with a news source known for its liberal bias implies that it may harbor its own liberal bias as well. It is also important to consider the differences in the politics of both nations. The Times of India of course is Indian based and the Huffington Post is an American news publication.
As we move onto article analysis, one must understand the ways in which tone can be a great indicator of the bias within an article. The words writers may choose to use, the shock value these words may evoke, and the images they paint in your head, reflect well how these writers may want you to understand the political situations at hand.
We will first examine the article titled, A Great White Coup. This article is rated Very Liberal by the Biasly analyst. Written by Chidanand Rajghatta, an Times of India US-based foreign editor. The article explores the 2020 election, specifically referring to the Republican nominee, Donald Trump. The tone in the article is ostensibly liberal, clear by the dramatic and shock factor-inducing words chosen by Rajghatta:
"By carefully suppressing voter turnout and votes of minorities and pluralists who tend to vote Democrat, and riling up his own nativist base through racist, white supremacist dog whistles, he hopes to eke out another Electoral College win."
When considering the 2020 election, it is important to avoid generalizations. This article's wording attempts to paint the election as a cut-and-dry split between two groups of people and holds contemptuous language for the other side. Rajghatta's generalization of the beliefs of Trump and his voter base being racist white supremacists is a product of his bias against those on the right.
While these words can certainly be true about some individuals within the massive republican voter base, it is unfair to make such generalizations about all. By doing so, Rajghatta allows his bias to leak into his work and create an unreliable piece.
A look at Chindanand Rajghatta himself also allows for a deeper understanding of his bias to be shown. Biasly rates Rajghatta as Very Liberal. Rajghatta is the author of many other anti-Trump and anti-GOP articles, as well as a novel titled, "Liberal India" a story following an activist's journey in India. The book's description reads:
"In this personal-is-political narrative, senior journalist and analyst Chidanand Rajghatta examines the lives of two people against the volatile backdrop of an increasingly fractious and intolerant India. The two strands come together in the gutting death of a courageous woman who took on these forces and fought for a more equitable society, a better India."
It is clear that Rajghatta is passionate about his liberal beliefs, and makes a conscious effort to inform the public of his opinions and research regarding these beliefs. Rajghatta's intelligence and skills as a writer are not limited by the fact that he is left-leaning, but his bias does unfortunately show throughout his work.
Another article to be examined from The Times of India is one titled, Why Biden Will Need To Spend Big written by Paul Krugman. The article has a Very Liberal rating.
The article outlines an economic plan suggested by Krugman, explaining what he felt was the best course of action for President Joe Biden. Written in the peak of the pandemic, Krugman encourages Biden to spend big on stimulus checks for families, and essential services necessary to rebuild the country post-pandemic.
Krugman avoids many economic questions, such as where the money may come from, how to deal with debt deficits and much more. Instead, Krugman chooses to look at the economy through the lens of "humanitarianism." This viewpoint is what I believe brings Krugman to a more center position than the previous article, as he does not encourage either side's economic positions.
However, once again, the tone can be seen in Krugman's writing that implies liberal bias. When addressing Trump, he too uses language charged with a negative tone. On Trump, Krugman claims:
"Trump keeps saying that we're 'rounding the corner,' but the reality is that cases and hospitalizations are surging (and anyone expecting a lame-duck Trump administration to take effective action against the surge is living in a dream world)."
The use of the "lame duck" term, and claims that Republicans live in a "dream world" are clear indicators of a negative tone towards the right-wing president and his supporters. This negative tone is consistent with Krugman's work (see Biasly author rating at Very Liberal).
Krugman himself, a New York Times columnist and an economist identifies as a modern liberal. This is seen multiple times throughout his column, as well as in his book titled The Conscience of a Liberal.
Who Owns The Times of India?
The Times of India is owned by the media powerhouse, Bennett, Coleman & Co. This conglomerate is owned by the richest family in India, The Sahu Jain family. The family's net worth sits well over a billion American dollars in total.
Currently, the company is run by two brothers by the names of Samir and Vineet, pictured below. The two are sons of the late matriarch Indu Jain.
To return to the topic of a monopolized media industry in India. The Jain family runs not only the Times of India, but also The Economic Times, TV channel Times Now, and a joint venture with the American company, Vice.
The family has maintained generational political relationships as well as holding massive stock in different corporations in India including electricity firms, oil companies, education ventures, and more.
How To Evaluate and Uncover Bias
Throughout this analysis, it becomes clear that a tone and author analysis may bring great insight into the bias present in an article and in a publication conglomerate. By analyzing a fair amount of articles from The Times of India, a conclusion can be made in the leanings of the bias.
Ultimately, Biasly's conflicting scores from both the AI machine and the analysts reflect a differing bias throughout all of the articles. It is important to note, that a couple of articles will not provide an in-depth bias analysis. Many writers throughout The Times of India hold many different political opinions and write on many different varieties of topics. It is my opinion that its collaboration with the Huffington Post implies, at least, a recent liberal push. However, India's concentrated ownership of the press may also imply that its bias is often in control of the political party that is in control.