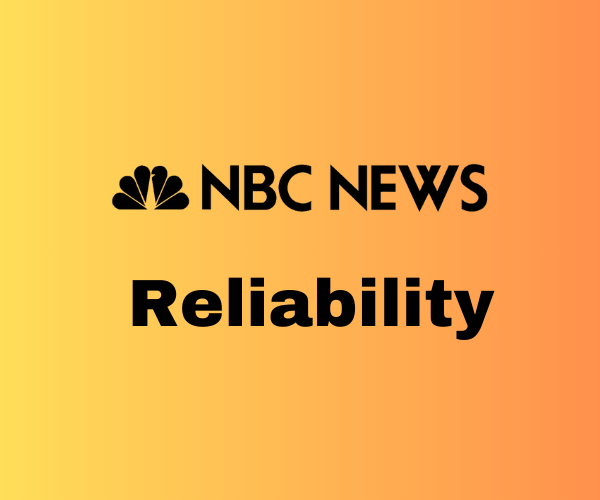 NBC News is the news division of the American broadcast network NBC and it was founded in New York City in 1940. The news division operates under the NBCUniversal News Group which also comprises MSNBC, CNBC, CNBC World, the Spanish language Noticias Telemundo, and the UK–based Sky News.
The division also oversees NBC Nightly News which is America's number one newscast and Meet the Press which is the longest-running television series in American history. Given its longstanding history, NBC News also has 70 years of rare historical footage available online at the NBCUniversal Archives.
At Biasly, we endeavor to evaluate the accuracy and dependability of all media outlets. Let us further investigate the reliability and accuracy of NBC News.
Does Reliability Matter?
Reliability, in general, refers to how trustworthy or accurate information, or in this case, a news source is. If we consider this definition, it quickly becomes clear why reliability is important in media sources. If we can't trust the things we read then there isn't much of a point in continuing to consume content from that source, after all. So how exactly can we gauge the reliability of a news source anyway?
There are several potential measures of reliability to look out for when trying to determine whether a media source is reliable. Red flags for an unreliable article can include the presence of wild unsubstantiated claims, facts dependent on other unreliable sources, heavy use of opinionated language, and more. Some indicators of a reliable news source, on the other hand, include things like:
Absence of subjective/opinionated language in articles
Credible sources cited (e.g., neutral sources, .gov, .edu websites)
Facts and statistics backed by multiple relevant outside sources
Use of primary sources when possible (e.g., interviews, quotes)
Information that remains consistent across news sources
So How Does the NBC News Fare in its Reliability?
The political bias index developed by Biasly objectively assesses news organizations' dependability. Biasly's reliability rating for NBC News has an Analyst rating of 89% reliability on our meter, which suggests readers can trust the majority of NBC News content online according to fact-checking of news sources, and a Computer reliability rating is 56%, which indicates a Fair rating, or Grade C, on its source and quotes quality without fact-checking.
Let's examine the data that backs these rankings and delve into what to look for when seeking reliable sources of news.
The NBC News's Accuracy and Reliability
The credibility of news organizations is significantly impacted by bias and political orientation. We will assess the credibility of NBC News's news articles and determine the extent to which the publication supports claims with evidence. We will check for selection and omission bias as we asses the articles' correctness and factuality.
Selection bias is when stories and facts are selected or deselected, often on ideological grounds, to create a narrative in support of the new sources' ideology. Omission bias, on the other hand, is when different opinions and political views regarding a situation are left out so that the reader is only exposed to the ideological perspective supported by the author. It's important to keep in mind these two types of biases when trying to assess an article's level of accuracy.
Biasly assigns a percentage score to accuracy, with one being the least accurate and 100 being the most. Ratings are calculated by weighing assertions with supporting evidence, the number of reliable internal sources, and the number of reliable external sources employed. A full page at Biasly's website includes dependability and accuracy ratings for newly released NBC News stories. As we previously stated, according to the articles analytics have assessed, NBC News is generally 89% reliable. This score can vary from article to article, though, and most variations in dependability are caused by bias, notably omission, and selection bias.
Let's compare another well-known National News organization, Fox News which has a very conservative bias and has a reliability score of 81% according to Biasly Analysts rating. For example, they had one article that was 65% reliable titled "Trump launches new communications Platform months after Twitter, Facebook ban" and another article called, "Biden operatives begin opposition research on potential 2024 GOP presidential candidates", which is 30% reliable. This shows that although the articles are published by the same news organization the accuracy of the stories can vary by piece.
For instance, the NBC News article titled, "Biden policies have benefited Latinos but there's still a hefty to-do list, group says" is rated by Biasly as "Somewhat Liberal". Concerning the selection and omission bias, the author Suzanne Gamboa uses UnidosUS as her main source on the Biden administration's work in the Latino and Hispanic community. UnidosUS is the largest Latino civil rights organization in the United States and it uses a combination of research, advocacy, programs, and a national network of Affiliate organizations to "challenge the social, economic, and political barriers that affect Latinos in the United States across a range of key issues…". The author uses this organization as a source to both criticize and applaud President Biden on his policies that affect Hispanics in the United States.
"Biden still needs to step up outreach and outreach funding to get more Hispanics vaccinated and enrolled in Obamacare. The administration also needs to improve enrollment of Latinos who are eligible but not participating in the federal food stamps program, Unidos said."
Besides UnidosUS, Gamboa uses previously written NBC news articles as a source, a press release from the White House, a study by the National Center for Education Statistics, two separate publications by the United States Census, and a fact sheet by the Centers for Medicare & Medicaid Services.
The author could have considered more diverse sources besides UnidosUS, NBC News, and government agencies. The lack of opposing viewpoints makes the article one-sided which is why it received a "Somewhat Liberal" bias score.
Biasly gives this article a computer-based Reliability rating of 85% "Grade B" due to the article having a very high number of total sources as well as a high number of different sources. The author also utilized a lot of quotes throughout the article with some lengthy quotes as well. However, Biasly's rating states that the author could have used more opposing sources to show some different viewpoints on this issue.
We will take a closer look at more examples like this below, providing a further investigation into the reliability of NBC News's articles. This will include its use of selection bias, omission bias, and the quality of its sources and facts used.
Analysis of Reliability in the NBC News Opinion Pieces
Opinion-based journalism provides journalists with a platform to convey their opinions and convictions. Normally it's advisable to steer clear of excessive bias when crafting impartial news pieces but opinion articles are inherently subjective. Therefore they are often less reliable but are still a great resource because they can offer valuable insight into complex issues that can be viewed from different perspectives.
NBC News offers opinion pieces under its digital section called NBC THINK. It has been described as "the new home for fresh opinion, sharp analysis, and powerful essays." NBC THINK political opinion pieces are mostly liberal-leaning but some are neutral. Although they do seem to post a balanced amount of Liberal and Neutral opinion pieces, there is a lack of opinion pieces from the conservative perspective. We know that opinion pieces are riddled with bias, but the news organization itself could remove bias by posting opinion pieces from opposite sides of the political aisle. Many of the opinion pieces are not just liberal but very liberal and because these articles rely on quotes from other liberal sources, they can not be viewed as reliable.
Quality of Sources and Facts Used
NBC News tends to be very factual when it comes to national news but it can show its biases when reporting on political news.
For instance, think about, "Texas House passes restrictive election bill after Democrats' all-night fight " In this article from Jane C. Timm, she used 11 quotes. Many of the quotes used in the article are from Texas Democrats as well as other liberal organizations such as the Texas UCLA.
In addition to that, the author's 15 sources for the article were as follows:
Houston Chronicle, "Ken Paxton's beefed-up 2020 voter fraud unit closed 16 minor cases, all in Harris County"
Texas Secretary of State, "Turnout and Voter Registration Figures (1970-current)"
State Rep. Trey Martinez Fischer (D)
Briscoe Cain (R), Chair of the Elections Committee
Charlie Bonner, communications director of advocacy group MOVE Texas a grassroots, nonpartisan, nonprofit organization building power in underrepresented youth communities through civic education, leadership development, and issue advocacy.
Sarah Labowitz, policy and advocacy director of the American Civil Liberties Union (ACLU) of Texas
NBC News, "Fla. becomes latest state to enact restrictive voting law as DeSantis signs bill on Fox News"
The Florida Senate, SB 90 (2021)
NBC News, "Georgia Republicans are pushing dozens of 'election integrity' bills. Black voters are the target, rights groups say."
Governor Greg Abott Tweet
S. Rep. Joaquin Castro (D)
James Talarico (D) Tweet
Overall, the quality of the sources is good but liberal-leaning. The author relies heavily on Democratic Politicians and organizations to make the argument that the Texas GOP is restricting voter rights.
The author relies heavily on other NBC News articles that were written about similar issues in Texas and other states. She quotes two organizations one being UCLA Texas which is liberal leaning and then a youth advocacy group called MOVE Texas which focuses on engaging with young voters regardless of party affiliation.
The evidence points to the author being biased, as there is no counterargument present in the article, nor does she offer any opposing quotes or sources on voting laws in Texas.
Biasly's computer rating system gives this article a "Grade B" at 75% reliable.  Biasly's Reliability Score provides a rating of the quality of sources and quotes used in the article including their uniqueness and diversity. Biasly reached its "Grade B" rating by analyzing the sources used in the article. This article received a "Good" rating for using many different sources and an "Excellent" rating for a very high number of total sources. Quote length and the number of quotes were also rated "Excellent". However, it received a "Poor" rating for the number of opposite sources used.  Note, that the computer bias rating does not include fact-checking on claims and sources, this is done through the analyst rating.
The article is rated "Center" in its bias rating given the fact that the article includes some positive sentiments for Greg Abbott and Ron DeSantis but it also contained negative sentiments for Donald Trump.
Selection and Omission Bias
In another example from NBC News, we can see that sometimes their articles are not as reliable as others. The article "U.S. sends hundreds of ventilators to Florida as Covid surge continues" by Shannon Pettypiece is a story that only uses a very limited number of sources. She links to both an NBC news article and an article by Local10 a Florida local news organization.
The author only offers two quotes in this article:
"There is this rapid, accelerated rise that is unprecedented," (University of Florida Health Shands CEO Ed Jimenez)
"I would honestly doubt that that's true, but I'll look. We have a lot of stuff that we stockpiled over the last year and a half through the Department of Emergency Management. I have not had any requests across my desk. I haven't been notified of that." (Florida Governor DeSantis)
Although the author cites facts from Florida public health officials and the federal government, she also includes a quote from DeSantis where he states that he is unaware of these ventilators being sent to the state of Florida by the federal government. The author offers one source for the claim that supplies were being sent to the state.
"The devices, which came from the federal government's Strategic National Stockpile, included 200 ventilators and 100 smaller breathing devices and related supplies, said an official of the Department of Health and Human Services"
The author does attempt to stay neutral in her article. The Headline is extremely neutral and she does not use certain words or phrases to push a narrative. Towards the end of the article, she does mention that Governor DeSantis and the Biden administration have different viewpoints when it comes to addressing the COVID-19 pandemic.
"DeSantis has been in a sparring match with the Biden administration in recent days over his implementation of a ban on mask requirements. President Joe Biden said Tuesday that the administration is looking into whether any federal action could allow Florida schools to require masks."
Overall the article received a Biasly reliability rating of 50% "Grade C". This rating is based on the number of sources and the diversity of sources used. It received a "Poor" rating for the lower number of sources with different viewpoints and the lower number of different sources. The article offered an average number of total sources but did have a very high number of words used in each quote.
The articles we've covered so far show mostly a liberal bias but some were center-leaning. As a news organization with a "moderately liberal" slant, NBC News does attempt to offer neutral news and can be factual although at times offers limited opposing viewpoints or sources. Now, that we have gone through some indications of trustworthiness, you can feel more confident in keeping yourself informed with the most accurate news.
So Is the NBC News Reliable?
Finally, it can be argued that NBC News is a pretty reliable news source and most of its unreliability stems from a lack of opposing sources and a low number of sources. However, the sources they do use tend to be accurate and reliable.
Readers have to be diligent in vetting their news sources. It is important to cross-check articles from different news organizations and to pay attention to the sources and quotes used in articles. The more you practice these methods, the easier it will be to spot unreliable articles. For additional resources and tips, you can use Biasly's News Bias Checker to uncover reliability problems and assist you in finding the most accurate and dependable news.