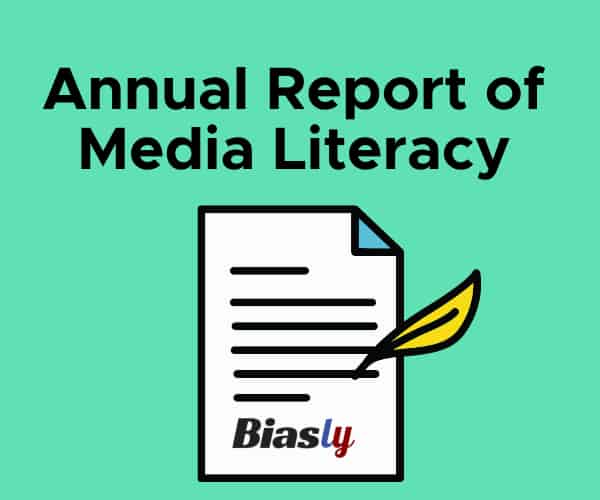 In the past two decades, the ability to see between fact and fiction has become more and more difficult which has brought about the need to focus on media literacy. But what is media literacy? It is the ability to analyze media and news content and use that to take action to make a difference in the world. Some examples are online news, television, video games, photographs, and more. In 2022, media literacy has seen many changes and developments over the years aimed to make people understand the changing world of media. 
The year 2022 has shown the importance of critical thinking and in fact, one of the biggest changes in media literacy was critical thinking. A Pew Research article cites, "Most Americans say that the ability to separate fact from opinion is essential to their democracy, but fewer than half are very confident in their ability to do this." 
The chart below shows the percentage of Americans who believe they can identify fake news. According to the chart, less than half of Americans are confident in identifying fake news with over 15 percent of Americans who are not confident at all. 
Not being able to identify fake news can lead to the spread of misinformation and the loss of reputation for the news media itself. With the rise of new sources of information online, it has been vital more than ever for media-literate individuals to address critical thinking strategies for the American public.

Source: Pew Research Center
Several notable topics in media literacy in 2022 that we will discuss below include:
Organizational and Grassroots advocacy 

Development of Media Literacy Standards

Implementation of Media Literacy Topics into Schools

Digital Equity Advocacy and Legislation

AI Implementation to Detect Fake News
Political and Organizational Change in Media Literacy
Because of these startling statistics, several initiatives have been implemented to enable critical thinking. Organizations around the world are taking part to develop guidelines for media literacy to develop a standardized curriculum.  
These guidelines have helped students build the skills to analyze media sources to determine which ones are credible. The standards have been continuously updated to ensure that technology-based learning is most relevant to the modern generation.
Taking a look at the political trend of media literacy, many states have mandated media literacy to be taught in schools. According to Edsource, "three states, Delaware, New Jersey, and Texas, require media literacy in all K-12 classrooms, with standards integrated into existing social studies, health or language arts curriculum." This has largely been due to bipartisan organizations such as Media Literacy Now pushing for legislation that focuses on teaching media literacy to the youth. In addition, with the prevalence of social media, it has been vital to helping Americans separate fake news and real news since many individuals get their news from online platforms.

Source: Pew Research Center
Another trend that is being seen is that media literacy organizations such as Biasly have been taking a classroom approach to implementing media literacy training by partnering directly with schools instead of taking the governmental approach. This has resulted in several counties in Massachusetts and Illinois having integrated media literacy into their school curriculum through those partnerships.
The rise of grassroots advocacy has also been on the rise with organizations developing local and state chapters to advocate for policies specifically in their state and build successful relationships with policymakers. Media Literacy Now has helped create successful policymaker action in 11 states and many other organizations have helped build the roots in local communities leading into successful campaigns.
Other Trends in Media Literacy
One important trend to note in media literacy is the concentration on digital citizenship. This means the responsible use of technology by anyone to make sure they are appropriately interacting with society. A 2021 Pew article cites, "Most Americans say that being a responsible citizen in this digital age means being informed, respectful, and kind online." This pattern shows American interest in making sure technology is used responsibly. 
Another important development in 2022 to help people develop the skills for digital media is the creation of frameworks online that covers topics such as online safety, and digital media literacy. 
One notable example is the Digital Citizenship Institute which created online resources to teach Americans about online safety covering a vast array of topics. In addition, the growing role of social media in shaping public opinion has led to growing recognition of teaching people the ability to spot false or fake news on news outlets and media sources. One such example is understanding algorithms of social media platforms to determine what types of content are displayed for a user which lets them know about the inherent biases in the content they consume.
Facebook has helped fund MediaWise which helps people identify fake news on social media. MediaWise has a series of videos and interactive lessons that focuses on teaching people to find fake news. MediaWise has gained over 66 million visits for its content since its creation in 2018.
A shift in focus to giving internet access to underserved populations or "digital equity" has been a priority of media literacy advocates in 2022. The US digital equity act of 2021 had funding for states to improve technology and has garnered a lot of media attention. Improving technology, especially in regions with low-income populations has helped to spread media literacy training. Advocates of media literacy have been quick to point out the success of this act and help implement similar policies in their states. Not only have these bills been implemented in community life but also in other areas as well. 
The Department of Defense has implemented media literacy into standard troop training as well which just goes to show the broad reach of media literacy in 2022. The graph below shows the computer ownership of Americans based on household income. Households with lower income tend to have lower ownership of a computer leading to lower access to the internet. This shows that digital equity is based on income and the US digital equity act was created to even the digital divide economically.
Artificial Intelligence in Detecting Fake News
With the rise and development of AI in the past decade, its applications have been quite widespread – most notably being able to detect fake news. Companies such as Google and Facebook have been quick to implement AI to detect false information and filter news to provide more accurate information and customize the news according to the user. However, this brings into question whether people should be educated in media literacy since artificial intelligence is already finding fake news. 
Taking a look at the trend of AI to rate news bias, Biasly is the first company to implement an artificial intelligence news bias meter. This algorithm helps to detect a news article's political bias and assign it an accurate bias rating. Garnering international attention, this trend appears to be moving towards and advocating for more and more media literacy through the use of Biasly's analytics. 
Lastly, media literacy has not only expanded for the adult population but has also seen a big increase in teaching for education. States such as Illinois, Washington, Colorado, and Texas have had bills passed that require some form of media literacy teaching. 
This has prompted several other states to propose bills that focus on media literacy and schools have been quick to implement relevant curricula to classes. 
The continuing trend of integrating media literacy into school curriculums is expected to grow at even faster rates in 2023 than in 2022. The growth of media literacy education around America and the world is only going to accelerate and 2022 was a crucial year with many advancements politically and economically. 
The next coming decade will raise questions about how ethical it is for AI to be in detecting news and its potential bias with a new set of problems that will develop for media literacy advocates. 
However, it is important to see how far Americans have come to educate people on this topic and how much progress has been made. This next decade for media literacy will be a challenging journey, but nonetheless, it is something to look forward to.