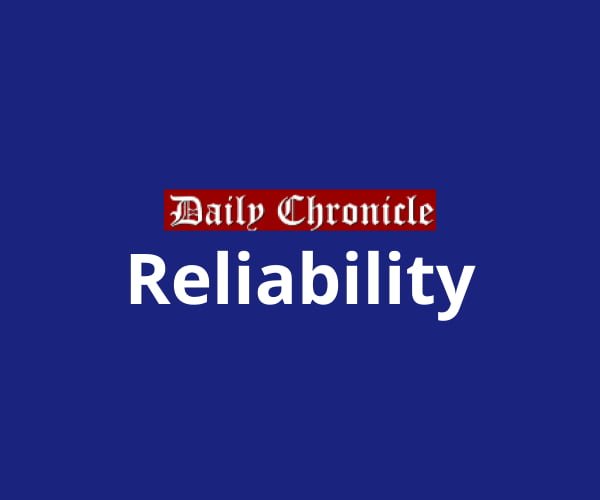 The Daily Chronicle is a local newspaper in DeKalb, Illinois, with a circulation of approximately 20,000. It delivers local news regarding sports, education, politics, and other issues. It occupies a notable presence within the area the news is covering. It is owned by Shaw Media, a media company that owns several other newspapers in the Chicago area.
Overall, the Daily Chronicle is a reliable source of local news. However, there may be concerns among readers regarding its reliability as a source of information, since it has a left- center leaning. Biasly endeavors to evaluate the accuracy and dependability of all media outlets. To this end, we look at the reliability and accuracy of the Daily Chronicle.
Does Reliability Matter?
Reliability, in general, refers to how trustworthy or accurate information, or in this case, a news source is. If we consider this definition, it quickly becomes clear why reliability is important in media sources. If we can't trust the things we read then there isn't much of a point in continuing to consume content from that source, after all. So how exactly can we gauge the reliability of a news source anyways?
There are several potential measures of reliability to look out for when trying to determine whether a media source is reliable or not. Red flags for an unreliable article can include the presence of wild unsubstantiated claims, facts dependent on other unreliable sources, heavy use of opinionated language, and more. Some indicators of a reliable news source, on the other hand, include things like:
Absence of subjective/opinionated language in articles
Credible sources cited (e.g., neutral sources, .gov, .edu websites)
Facts and statistics backed by multiple relevant outside sources
Use of primary sources when possible (e.g., interviews, quotes)
Information that remains consistent across news sources
So How Does Daily Chronicle Fare in Its Reliability?
Biasly's political bias index objectively assessed the news organizations' dependability. Biasly's reliability rating for Daily Chronicle has an Analyst rating of 94% reliability on our meter, which suggests readers can trust most of Daily Chronicle's online content and a Computer reliability rating is 0%, which indicates a poor rating or Grade F. However, since there is an average, certain articles could be more or less trustworthy. Biasly's findings are in sync with those of other third-party raters showing mostly factual because they have retracted several stories in the past or had pieces that were not factual.
We begin by analyzing the supporting data for these rankings and discuss red flags to be aware of while searching for trustworthy news sources.
Daily Chronicle Accuracy and Reliability
News organizations can be biased, and this can impact their credibility. The Daily Chronicle has been accused of prioritizing political agenda over facts, like other media organizations. We can evaluate the integrity of the Daily Chronicle's news stories by checking for selection and omission bias, and by determining how well the publication supports assertions with evidence.
Selection bias is when stories and facts are selected or deselected, often on ideological grounds, to create a narrative in support of the new sources' ideology. Omission bias, on the other hand, is when different opinions and political views regarding a situation are left out so that the reader is only exposed to the ideological perspective supported by the author. It's important to keep in mind these two types of biases when trying to assess an article's level of accuracy.
Biasly rates the accuracy of news articles on a scale of 1 to 100. The rating is calculated by considering the number of reliable sources cited in the article, the amount of evidence supporting the claims made in the article, and the presence of any bias in the article.
Biasly's website includes dependability and accuracy ratings for newly released Daily Chronicle news stories. The Daily Chronicle has a general reliability rating of 94% on Biasly. However, this rating can vary from article to article. The most extreme variations in reliability are caused by bias, such as omission bias and selection bias. For example, The Daily Beast has a moderately liberal bias and a reliability rating of 77% on Biasly. One of their articles, titled "Biden Tells Andrew Cuomo to Quit Already as Scandal Spirals," has a reliability rating of 92%. However, another article of theirs, titled "Judge Tosses NRA's Attempt to Relocate to Texas," has a reliability rating of only 73%. This suggests that articles that display political leanings are less reliable than neutral articles.
For instance, this Daily Chronicle article titled, "Safe Passage welcomes new board member, president," is rated at Center. Concerning the selection and omission bias, the author Katria J.E. Milton did not omit information and all sources used were reliable.
The article is accurate in describing the situation. We will take a closer look at more examples below, providing a further investigation into the reliability of the Daily Chronicle's articles. This will include its use of selection bias, omission bias, and the quality of its sources and facts used.
Analysis of Reliability in Daily Chronicle Opinion Pieces
Opinion-style journalism is a good place for reporters to share their opinions and beliefs, but it is important to be aware that these pieces are subjective and may not be entirely accurate. However, opinion pieces can still be valuable for understanding different political viewpoints.
For instance, this Daily Chronicle article titled, "Vaccination is key to controlling pandemic': Hospitals brace for patient surges as levels near 2020," is rated at Somewhat Liberal. Concerning the selection and omission bias, the author Katie Finlon does a good job of citing people supportive of the vaccine and democratic policies.  However, the article does not cite opposition towards the vaccine or these suggestions. For example, "Especially with the upcoming holidays, [pulmonologist] Hussain said he encourages people to take precautions with gatherings."
The article is accurate in describing certain facts and situations and helps garner support for essential workers and the vaccine, however, it does not include opposing views, so it is left-leaning.
Quality of Sources and Facts Used
The Daily Chronicle is good at using reliable sources from both sides of the ideological divide and citing facts as evidence, however, this is not the case for every article. For example, the article titled "Republicans look to win back power in Congress, stop Biden". In this article from Lisa Mascaro and Mary Clare Jalonick, they used 5 quotes and all of them are short-length.
Additionally, the author's 14 sources for the article as follows:
The quality of the sources looks fine, but the biggest problem is that one news source is used excessively, reducing the quotes' credibility. Also, all of the quotes are personal views about the republican-democrat division within the Congress. The article is conservative, which is visible throughout the article in that the authors display a tendency towards right-wing. The authors aimed to deliver the issue comprehensively but used AP news many times as a source, which became a problem with reliability. The article needs more diverse sources to increase accuracy and trustworthiness.
The writers, Lisa Mascaro and Mary Clare Jalonick used left and right sources together. Nevertheless, the quotations are coming from republican sources only, like Brendan Buck, a former top aide to the past two Republican speakers of the House, and Rory Cooper, a former House Republican leadership aide. Due to lots of paraphrasing in the article, the reader is directed towards a right-wing perspective. All of these suggest that the article is committed to conservative-leaning and a questionable source about the control of Congress.
In the article above, "Vaccination is key to controlling pandemic': Hospitals brace for patient surges as levels near 2020," is a well-written example that the author aims to inform the readers about COVID-19 vaccination. The article uses accurate sources and information from the experts of the issue. For instance, the author uses the data from DeKalb County health department, and a doctor, Dr. Mujahid Hussain, a pulmonologist at Northwestern Medicine Kishwaukee Hospital. The statements and data are coming from experts and government sources which increases the reliability.
Selection and Omission Bias
In a more extreme example from the Daily Chronicle, we can see an author inject omission bias even though she tries to be objective. In the article, "More than 588 DeKalb County public school students quarantined" by Katrina Milton, the author does not include vaccination rates among the students of DeKalb County nor the death rates of the students exposed. This shows a slight liberal bias because it appears to be trying to invoke fear or an immediate reaction from others. The author does not provide any data that can then be analyzed to bolster her own views. Rather, she completely omits any statistics, save those that support her headline. This may lead one to conclude that she is cherry-picking the data to make her case.
The article is accurate and cites sources like the Illinois Report Card Data: "According to enrollment numbers from the most recent available Illinois Report Card data, DeKalb School District's quarantine rate is about 6% of its student body population, which is 6,427 in the 2021-2022 school year." However, it does not include other relevant information like vaccination rates or additional information that might lessen the danger of such an event.
In the article that is discussed earlier, "Republicans look to win back power in Congress, stop Biden" the authors disregards any views from Democratic party, and they arrange the title to the ideologies of the right. They refrain from showing others' perspectives and try to portray the issue from only one point of view instead of a fact-based point of view reducing their reliability. Additionally, few of the sources that the authors used had opposite leanings, they were all Republican. In this quote by Brendan Buck, "They're going to make very clear that there's a new sheriff in town," we see how the author thinks the republicans are becoming stronger within the congress without alternative opinions. By neglecting views from the opposite, the authors diminish the credibility of the article, causing it to resemble an opinion piece.
Opinion pieces are often biased and may omit relevant information. It is important to evaluate them carefully by considering the author's credentials, sources, and bias. The Daily Chronicle has the incentive to appeal to all viewpoints, but it is up to the reader to decide which viewpoints are worth considering. By being critical of the information you consume, you can help to ensure that you are getting the most accurate news possible.
So Is the Daily Chronicle Reliable?
In conclusion, it can be argued that while the Daily Chronicle is a very reliable news source with a credible reputation for journalistic integrity, the more you learn about media reliability and accuracy, the easier it will be to spot problems with sources, selection, omission, and factuality. Biasly's News Bias Checker can help you identify reliability problems and find the most accurate and reliable news.